MAG-CX3, a vertical CNC milling machine
Accuracy and Reliability at Your Service
MAG-CX3 500, the vertical CNC machine allows you to carry out high-precision and repeatable mechanical machining.
Constructed with a solid and tested aluminium frame, it is the ideal machine for both industrial and non-industrial mechanical production.
The total absence of mechanical play makes the MAG-CX3 perfect for dealing with different types of machining, from aluminium milling to extremely precise engraving on precious materials.
MAG-CX3 is available in the Standard and Pro version. Each machine is supplied with a lubrication system for machining, consisting of a reservoir and a nebulizer.  A PC with jointed arm or a touch control panel are also included on request.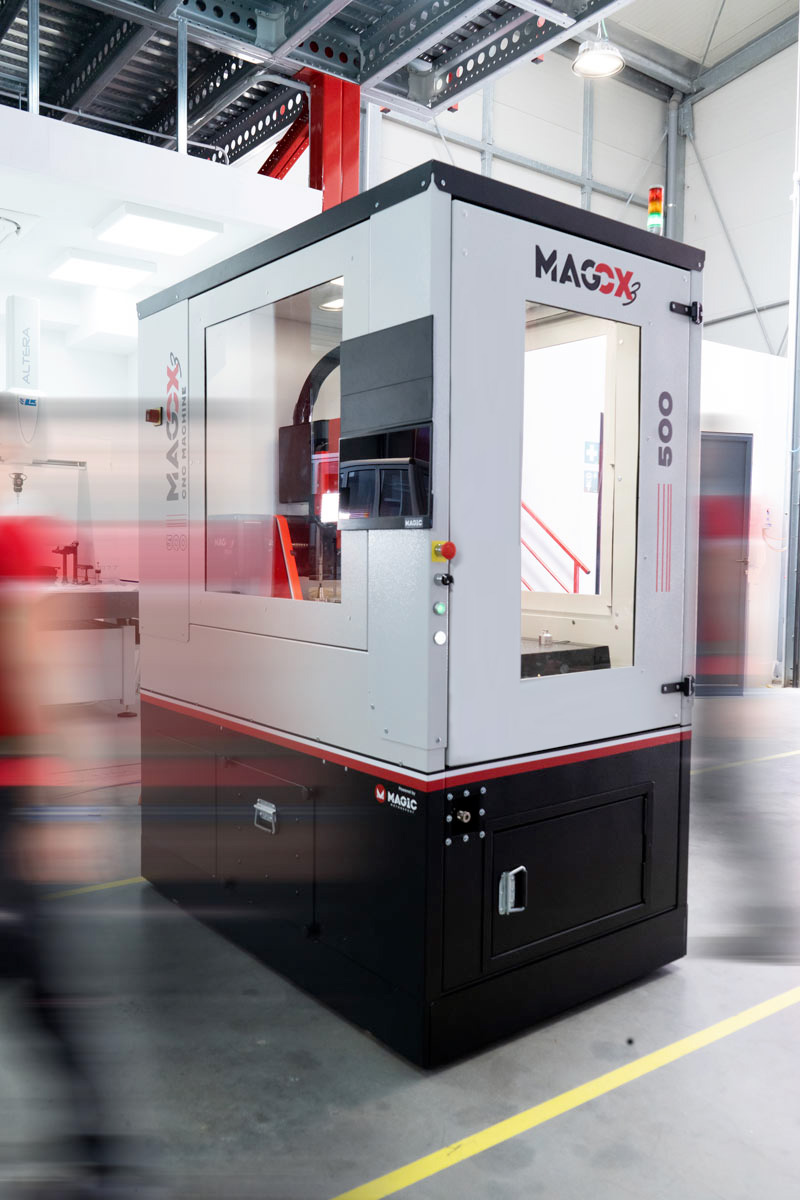 MAG-CX3 is precise and adaptive to any type of processing
Granite Base
compliant with ISO 8512-2 (grade 2), dimensions 800x500x90 mm
Mechanical movement
guarantees high precision and absence of mechanical play
Probe for Z axis calibration
with automatic reset of the height of the tools
Hybrid motors
with an encoder and reference point ensure high torque
Pneumatically operated tool
holder movement
Optional 4th rotary axis
with hybrid motor and transmission with harmonic drive (max. torque 600 Nm)
Three-phase brushless electro spindle
1.6 - 2.2 kw, 24000 - 30000 rpm
Spindle for 4th axis
with maximum pieces size of 100 mm
Smart concept of milling
Designed to ease and optimize each processing
Developed for Accuracy
Identical results in their uniqueness
Reliable machining
Simple and intuitive user interface
Versatile milling
From aluminium milling to engraving on precious materials
Intuitive and Easy to Use Software
The control software has been developed to guarantee an optimized management of the machine. The graphical interface fits the criteria for simplicity of use and is compatible with the latest internet browsers.
Connected and intuitive, the interface allows the user direct contact with technical support as well as to the main technical values of the machine for work reports or malfunctions.

The software allows real-time verification of the working conditions of the machine through remote access so as to have stable and instant feedback with the support team for rapid problem resolution.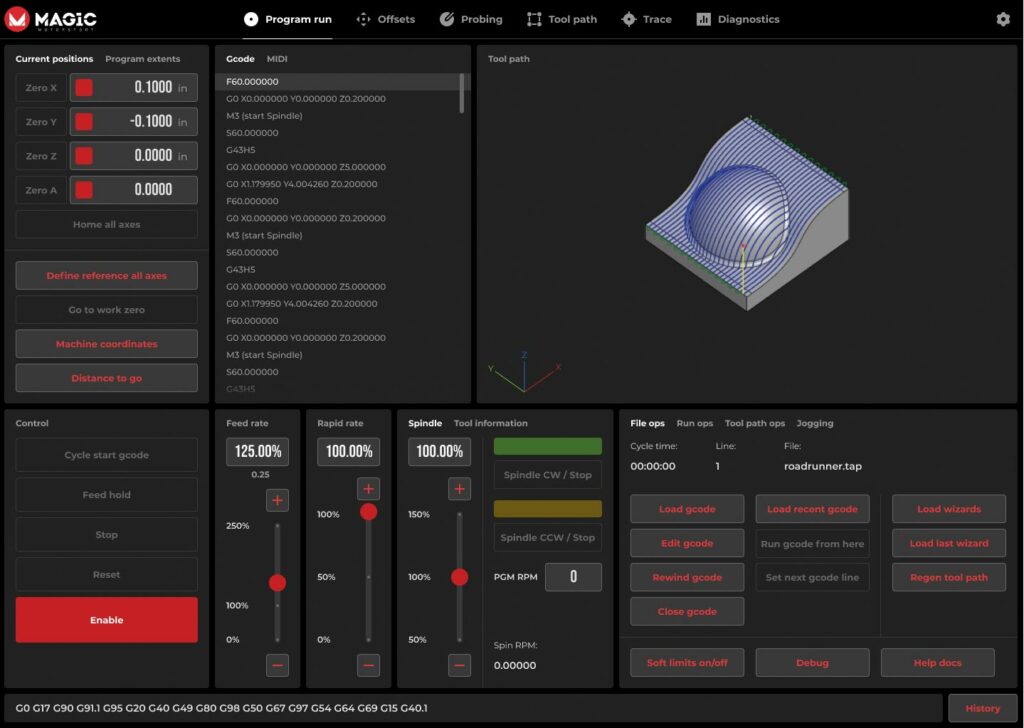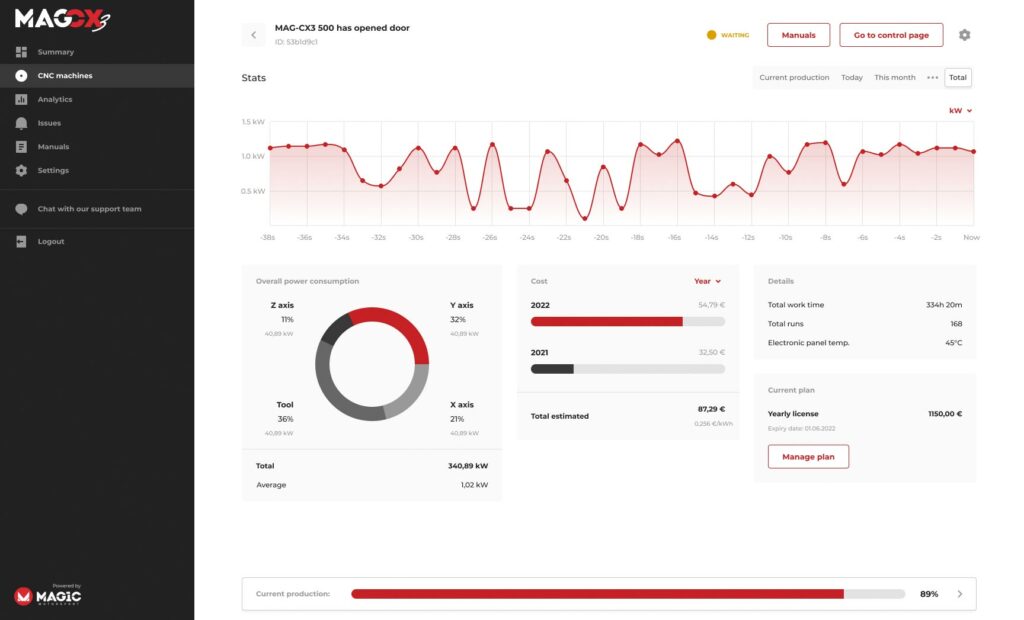 Join up for our newsletter and get MAG-CX3 brochure and the latest updates on how we can help your business grow. You'll be the first to know about new features and design updates!
| | |
| --- | --- |
| Machine type | Vertical CNC milling machine |
| Floor space | 1620 mm x 1010 mm |
| Max height | 2040 mm |
| Mass | 700/720 kg |
| Axis x probe | 480 mm |
| Axis y probe | 325 mm |
| Axis z probe | 170 mm |
| Number of axes | 3 (4° optional) |
| Precision | ± 0.01 mm |
| Type of spindle | Manual/ATC |
| Maximum spindle speed | 24000/30000 rpm |
| Maximum interpolated speed | 10000 mm/min |
| Maximum absorbed power | 2.5/3 kW |
| Supply voltage | 220 V |
| Motor type | Hybrid closed loop |
| Motor torque | 12 Nm |
| Movement | Ball screw |
| Automatic tool change* | Pneumatic handling |
| Pneumatic operating pressure* | 6 - 8 bar |
| 6-positions tool change* | 6 |
| Type of cones* | ISO 20 - ER20 |
| PC Specifications | Ryzen 5 4500U - 16 Gb DDR4 - 512 SSD |
| Workable materials | Aluminum, Copper, Brass, Bronze, Polycarbonate, Plexiglass, Delrin, ABS, Acrylic |
Choose How to Customize Your MAG-CX3!
The granite worktop can be custom made to suit your work as during the configuration you have to possibility to request a different matrix of the anchoring holes. It is also possible to customize graphics and logos on the machine and on the software interface.
You're just a few steps away from your tailored CNC machine, describe your needs, we'll customize it for you!